Relationships Building Course (RBC)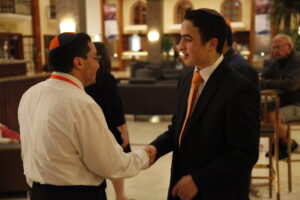 The mission of Yachad's Relationship Building Course (RBC) is for individual's with developmental disabilities ages 18+ to acquire practical social skills for everyday living that may be applied in a diverse swath of home, community, social, and vocational settings, and for participants to learn the skills needed to foster meaningful and lasting interpersonal relationships.
RBC is a highly personalized program.  Participants meet in small to medium-sized experiential groups and, with the support of trained facilitators, have fun while learning and developing their social skills.
RBC runs 2 semesters per year in multiple Yachad locations across North America and Israel including Brooklyn, New Jersey, Los Angeles and Chicago.
This program will begin again in Fall 2015. For more information, contact Michelle Mintz, LCSW, Senior Social Worker and Supervisor by filling out the form below.
Topics covered include:
Communication and Conversation Skills (beginner/intermediate)
Understanding and Responding to Social Cues
Conversation Topics
Joining a Conversation
Starting /Maintaining a conversation
Personal Space
Managing Emotions
Self-Advocacy
Safety and Social Media
Interested in Starting an RBC in your area?
If you feel that your community could benefit from from this program please contact Michelle Mintz, LCSW at (212) 613-8325 or mintzm@ou.org.