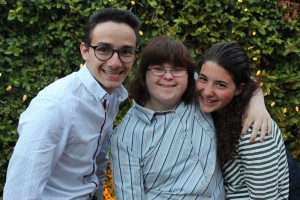 At a Yachad Shabbaton, each Yachad member is matched up with a volunteer advisor. The Yachad participants and advisors are hosted in homes within a community or college campus. The Yachad members participate in the tefilla (prayer) service with a shul by receiving aliyot and giving dvrei torah in front of the shul. This gives them the opportunity to participate in religious ceremonies with the community members.
Shabbat meals are eaten together as a community so Yachad members and community members can socialize with each other. Shabbat meals are filled with ruach (spirit), singing, dancing and Yachad traditions that encourage inclusion and the practice of social skills.
In some communities, a shabbat meal is hosted in individual community members homes, which provides the Yachad members and the hosts with a more intimate setting to get to know one another. This also allows for community hosts with young children to participate in the Yachad Shabbaton.
Some Shabbatons are held on college campuses, such as Columbia University and Yeshiva University, which allows the Yachad members to experience what campus life is like by taking tours of the campus,  hanging out in the Hillel Center and staying in the dorms. The communities have a unique opportunity to get to know many of the Yachad members.
Many community members are often surprised by how impacted they are by the weekend Shabbaton experience and how many of their preconceived notions about individuals with disabilities have changed once they have gotten to know the Yachad members on an individual level.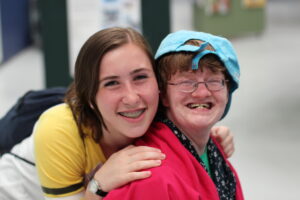 Inclusion is an important part of a Yachad shabbaton. Each Shabbaton begins with an ice breaker that the community members, advisors and Yachad members participate in together. The ice breaker provides a structured way to promote social skills and encourages everyone to participate in activities throughout the weekend. The tables at the meals are always made up of a mix of Yachad members, staff and community members. Yachad advisors are trained to facilitate conversation and to encourage the Yachad members to socialize.
Each Shabbaton has a scheduled learning program where Yachad members, community members and advisors learn about the Torah portion together in small groups. Each group is given a learning packet that Yachad staff created to be interesting and appropriate for all different levels of learning.
The Yachad Shabbaton culminates with a Saturday night activity that allows Yachad members to engage in age-appropriate activities,  including magic shows, concerts, casino night, luau, a Yom Hashoa Candle lighting ceremony, Karaoke and more.
View our calendar for upcoming Shabbatons!