Order Yachad Purim Cards!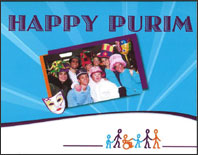 This year as you think about your Mishloach Manot, add something special to the basket. Make a donation in honor of your family and friends that will provide the opportunity for every Jew to Belong in the Jewish Community. Especially as this year Purim falls in North American Inclusion Month (NAIM)!
Feeling overwhelmed with so much to do? For an additional $2 per card we will fill out the cards and mail them for you! If you choose this option your list of names and address must be sent to Yachad@ou.org by February 26 for the cards to arrive at their destination in time for Purim.
Yachad/NJCD provides opportunities for children and adults with disabilities to be included into the community through social programming, schools, vocational training, summer camps, employment, and so much more. Please help us to continue to provide and expand these services. When you donate to Yachad for Purim, we will send you Purim cards to include in your Mishloach Manot or to send to those further away, to tell your family and friends that you have made a donation in their honor.