The Jewish Union Foundation is a nonprofit organization dedicated to enhancing the lives of individuals with developmental disabilities. JUF offers a wide array of services, ranging from Day Habilitation Programs to Vocational Training Services to Respite services for families. We work closely with various state funding agencies, including the Office for People with Developmental Disabilities (OPWDD) and ACCES-VR. Through our various programs, we believe that we have helped our clients to achieve greater independence, make immense personal strides, and become better able to participate in the full spectrum of life. Click below to learn more about our services:
COMMUNITY HABILITATION
In Yachad/the Jewish Union Foundation's Community Habilitation program, staff members work one-on-one with individuals to facilitate community inclusion and work towards achieving personal goals. Together with the family, Yachad and JUF help recruit a Community Habilitation worker who meets the family's needs and monitor the individual's growth and progress within the program.  Community Habilitation is a Medicaid-funded service provided through the Office for People with Developmental Disabilities, and is available to individuals living at home.  For more information, please contact Michael Appelbaum at 718-859-5402 or email him.
JOB FAIRS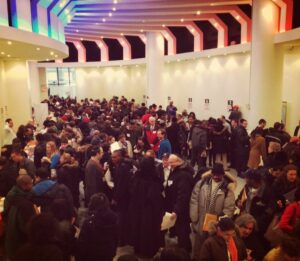 Yachad and the JUF are excited to present Job Fairs for People with Developmental Disabilities, held multiple times throughout the year.  These Job Fairs are aimed at connecting qualified job seekers with some of the top employers from the Tri-State area.  In the various Job Fairs that we have been a part of, JUF and Yachad are proud to have helped over 100 companies and thousands of job-seekers in their searches. For more information on Job Fairs, email us.
FOR GENERAL INQUIRIES
For more information on any of JUF's services or programs, contact Ilana Rosenbaum at 212-613-8320 or email her.