Training Opportunities for Professionals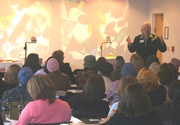 Yachad/NJCD provides ongoing training workshops for agencies, schools, students and its own staff throughout the year. If you are interested in putting together a training program for your organization and tailoring it to your specific needs, please contact Mrs. Amanda Levy, Clinical Director, JUF at 347-770-9759 or levya@ou.org. 
The following is a list of training workshops that have been offered by Yachad/NJCD:
Improving Critical Thinking Strategies for Individuals with Special Needs
Transition from School to Work
Mental Retardation: A Pediatric Perspective
Positive Behavioral Supports
Social Skills Training for People with Special Needs
Recognizing the Signs of Families in Crisis
Obsessive Compulsive Disorder- An Introduction
Nutrition & Weight Management
The Vineland- How to interview and score the Vineland
Identifying and Reporting Child Abuse
Autism Panel: Diagnosis, Education and Ongoing Intervention
Coping with Stress and Getting through difficult life events
Working with Difficult People
Help a child learn & grow; The Feurestein Approach
Going Beyond the "Time-Out"
Self Advocacy
Schools can also set up a program for their students to partake in a sensitivity workshop and learn more about inclusion.