Serving Exceptional Children Nationally (NADSEC)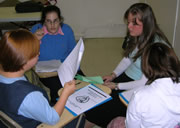 The National Association of Day Schools Serving Exceptional Children (NADSEC) is an association of yeshivot and day schools across the United States and Canada providing programs for students with varying special needs.
Schools service students with:
Mild to Moderate Learning Disabilities
Dyslexia
Asperger's and the Autistic Spectrum
Hearing Impairment
Visual Impairment
Mobility Impairment
Developmental Disabilities
We offer the following services:
Resource Guide of programs throughout the United States and Canada for families looking for the appropriate educational setting for their child
Staff development opportunities
Shared curriculum materials and guides
Networking for both schools and families

We host staff development conferences in the Fall and Spring each year on a national level.
For more information or participation, please contact Batya Jacob, Coordinator at 212-613-8127, 551-404-4447, or jacobb@ou.org.