New Jersey Association of Jewish Day Schools (NJAJDS)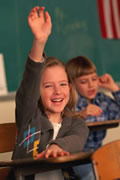 Who we are
We are a coalition of schools located throughout the state of New Jersey, working together to ensure that every student meets their maximum educational potential.
What we do
Staff development conferences are held throughout the year, enabling educators to stay abreast of the newest pedagogical advances. As members of the New Jersey Advisory Committee to the State Department of Education, we represent our school members' needs and update them with the latest developments in New Jersey Educational Law. We work together with the Department of Education to ensure that our schools and their students with special needs receive all services to which they are entitled.
Why we are there for your school?
By working together, our collective voice is heard when trying to effect change in policy and law in the state education department. Our coalition of schools enables us to access more services and funds for our students. Together, we can enhance staff development and networking between schools and their teachers.
Where we are located?
Although our home office is located in Essex County, we service schools throughout the entire state of New Jersey. Similarly, our conferences are held in various locations throughout the state.
When are the Associations services available?
We offer continuous assistance to New Jersey schools throughout the year. Our main staff development conference takes place each year on Election Day, the first Tuesday of November. In addition we provide monthly sessions through our "Focus of Education: Educating the Educator" program. We are available throughout the year for consultations with schools and resource rooms, and we assist families looking for appropriate school placement for their children.
How do we meet these goals?
By working together, leveraging our collective support, we help expand the knowledge and skills of our educators, access services for our schools, and enrich the education of all of our students. In this way, we are afforded the opportunity to ensure successful and appropriate education for all of our children.
Services offered by NJAJDS include:
Staff development
Resource availability
Training sessions
Curriculum modification
Communication between Schools throughout the state to foster improved transition between grade levels
Inclusion of students with learning challenges/special educational needs
Accessing state services and funding
New Jersey Principal Council
Technology Plan approval through the State of New Jersey Department of Education
For more information or participation, please contact Batya Jacob, Coordinator at 212-613-8127, 551-404-4447, or jacobb@ou.org.