Join the Yachad Virtual Buddy program – bringing inclusive social opportunities to our members, everyone in the comfort of their own home! Please visit 
Yachad.org/VirtualBuddy
 to sign up for the Yachad buddy program and connect / socialize with a Yachad buddy for ~20 minutes once a week!
Advisors are encouraged to please join Yachad programming on Zoom and other online platforms! Check out a full listing of events at Yachad.org/YachadOnDemand
Yachad Spotlight – Ely Bloch
Eliy Bloch is a student at Yeshiva University and an Advisor with NY Yachad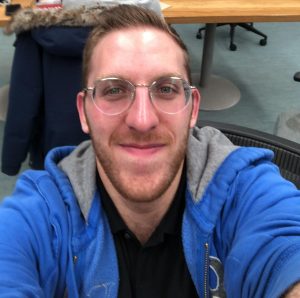 Avi Feder: Who introduced you to Yachad?
Ely Bloch: Avidan Itzhak from Norfolk, VA – the best town ever! And of course the notorious Infield twins!
Avi: Have you ever run with Team Yachad?
Ely: I only ran once in the Jerusalem marathon, but I had already signed up with my yeshiva before the sensational Jake Benowitz (the face of Yachad) could hit me up about it.
Avi: What is something you are looking forward to in Yachad?
Ely: I'm looking forward to hopefully getting paired up with a member in the Yachad Virtual Buddies program through a new advisor led initiative to get more people involved!
Avi: What is your favorite part of a Yachad program?
Ely: What?! I'm actually supposed to choose? If you twist my arm, I'd say the meals. Besides great food, you get to meet and shmooze with some really cool members and other fantastic Advisors.
Avi: Can you tell us about your personal highlight of Yachad involvement?
Ely: I don't think I have a specific highlight or moment, just the overall experience of promoting inclusion along with many remarkable people! Although the murder mystery event at Advisor Rooftop Bash to kickoff this year was pretty entertaining!
Avi: What is your favorite Shabbos food?
Ely: Probably my Mom's challah, but otherwise I'd say sweet noodle kugel!
Avi: What is your favorite Yachad swag item?
Ely: Definitely the super cool drawstring sweatshirts. I take mine everywhere just to show off, though now I can't seem to find it :/
Avi: What's a secret / hidden talent of yours? 
Ely: I can do interesting things with my tongue, like flip it upside down and form a 3-leaf clover.
Avi: What's a fun fact about you? 
Ely: I once took a trip and toured to Finland for a day, and another trip to Paris for a day as well.
Advisors WhatsApp Groups
Join Yachad Advisors WhatsApp groups for your local chapter.
Please click to join the group for the region which you are currently in:
Be in touch with any questions, comments or just to say hi.
Best,
Avi F.
—
Avi Feder
Director of Advisor Engagement
Office: 212-613-8105
Cell: 347-802-7112
Email: FederA@ou.org